Serving Folsom Chiropractor Dr. Judd Lowrey
Dr. Judd Lowrey has been serving Folsom CA with the latest advances in sports and wellness chiropractic care since 2001. Located in El Dorado Hills near Folsom on the corner of White Rock Road and Latrobe Road, we are just minutes from Hwy 50.
We are very dedicated to the Folsom community. In fact many of our patients live in Folsom. We have patients that take advantage of their chiropractic insurance care provided by companies that are based in Folsom including: Intel Corporation, Verizon Wireless, State of California, Blue Shield of California, and DST Output.
"There are many Folsom Chiropractors and we're honored that our patients to put their trust in us for their chiropractic wellness care."
Lowrey Chiropractic Location and Contact Information: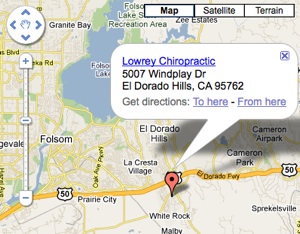 5007 Windplay Drive, Suite 2
El Dorado Hills, CA 95762
(916) 941-7508
lowreychiropractic@gmail.com
Lowrey Chiropractic provides chiropractic services, sports therapy and soft tissue treatment serving El Dorado Hills, Folsom, Shingle Springs, Cameron Park and Placerville, CA.
To make an appointment please call us at (916) 941-7508.